April 2, 2017 / admin
So it's Saturday night and your'e downtown having a good time drinking with friends and all of a sudden you realize you've lost your car keys.
Worst part it's not your car, it's your parents car, a brand new 2017 Lexus RX350.
Panic slowly starts to creep in, you're a little high and buzzed from what you smoked and drank an hour prior and it takes a little time for the realization to saddle in: you're stuck with no keys to your car in the middle of New York city.
You probably ask yourself: "well, now what?!"   You have to move the car or it'll get towed plus you kind of need it on Sunday as well,  waiting for Monday isn't an option and your insurance won't cover towing it to the dealer, which will rip you off completely and he's closed over the weekend anyways.
[caption id="attachment_502" align="alignnone" width="300"]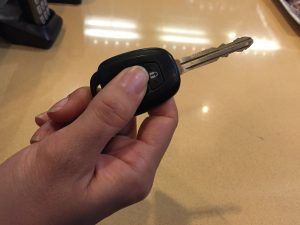 2016 Toyota Rav-4 remote head key.[/caption]
Lucky for you, you live in the greatest city in the world where locksmith companies like
Metro Local Locksmith
can make you a new car key on the spot wether from an existing key copy or from scratch, yes that's right you've heard me, we can make you a new transponder car key or smart key on the spot, day or night 24 hours a day, 7 days a week.
Our
car locksmith
services are 24 hours a day, we will come over to your car where ever it may be and we'll cut and program you a new key on the spot, we have a large inventory in stock of most transponder keys, smart keys and keyless entry remotes as well as remote head keys.
[caption id="attachment_283" align="alignnone" width="300"]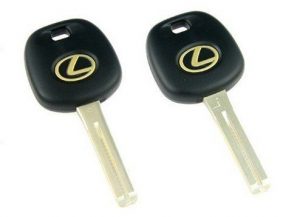 High security Lexus car keys.[/caption]
We have 24/7 access to most vehicle key codes by VIN (vehicle identification number) and we use top notch, state of the art cutting and programming computers in our trucks in order to make sure we can cut and program almost any key to any year, make and model car out there.
A lot of locksmith companies don't really have the ability or specialized equipment to cut and program car keys on site, and more often than not they will subcontract a freelancer to do the job, they can't keep it in house and you pay the price for that.
Even if your insurance company or AAA will cover your towing fees to the dealer, it will take a lot of time, will be more expensive (dealers have high overhead costs) and won't help you over the weekend or late at night on regular weekdays.   We can come to you for no extra charge, unlock your vehicle and get you going and back on your way in no time with a new car key in your hand for less than what the dealer would've charged you and for less time.
So next time you lose your car keys at night over the weekend, don't freakout and give us a call, we'll take care of your emergency situation the right way, it'll be as if it never happened at all.
We work with multiple car rental companies and parking garages throughout the city.
For more information or to see if your car is a make we can work with, give us a call any time @ (646) 450-6320
Rock on New York.
Recent Comments
Recent Posts
Archives