August 5, 2017 / admin
At
Metro Local Locksmith 
we fix intercom units.
We are New York City's specialists when it comes to fresh (new) installations, troubleshooting existing systems and upgrading old intercom systems.
It doesn't matter what's wrong with your system or how old it is, our
intercom
and access control specialists will fix or replace it, sometimes on the same visit.
Our technicians are experts when it comes to intercom systems in commercial and residential buildings in New York, we work with some of the most innovative intercom and access control companies and distributers in the market today:
Aiphone, Commelit, Butterfly and Seidle to name a few.
We fix intercoms!
Stand alone door units, with or without video camera, multi doors solutions or just a singular, we do it all.
[caption id="attachment_605" align="alignnone" width="300"]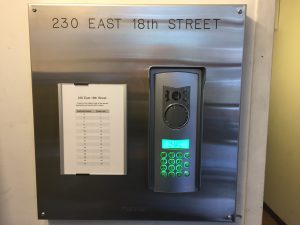 Aiphone intercom and access control system.[/caption]
A growing number of co-op buildings and management companies are trusting us with their intercom and access control needs, we provide same day service in most cases and in most neighborhoods of Manhattan and the surrounding boroughs.
Most buildings in New York now days would have some sort of intercom system, it maybe old with audio unit only or equipped with a state of the art video and audio stand a lone unit with in house video monitor or even smart phone access for communicating and unlocking the door.
A townhouse or brownstone with multiple floors in the same unit? No problem, we can customize a system with multiple screens and even mobile access intercom solutions to accommodate your every need.
No intercom job is too big nor too small.
Being a locksmith company and not only a communication or low voltage company gives us the edge to come full circle when it comes to your access control and intercom needs because it enables us to solve ALL your security issues including the actual locking mechanism of the door (usually a magnet or an electric strike) and the actual cylinder and keys.
When you need your intercom system fixed, replaced or upgraded don't hesitate and give us a call.
Recent Comments
Recent Posts
Archives